Asbestos Awareness for Facilities Staff
£19.95 + VAT per course
Discounts apply for multiple purchases, see pricing table below
An online course for those required to take 'Asbestos Awareness A' training as part of their job role as support services for buildings and facilities. The course increases your awareness of asbestos, details the reason it was used so extensively, and the threat it poses to health. You will learn how to recognise potential asbestos, what a risk assessment is, and what to do in an emergency.
Written specifically for facilities staff
Online course takes around 1 hour to complete
Pause and restart as many times as necessary
Verifiable certificate instantly available on successful completion
Bulk discounts available
Free retakes
Online management system for organisations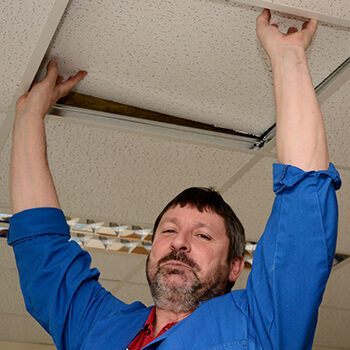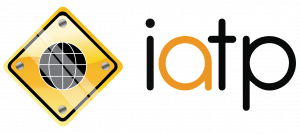 The IATP (Independent Asbestos Training Providers) are a nationally recognised not-for-profit organisation working in conjunction with the HSE. The IATP logo on our course gives you the confidence to know that our Asbestos Training has been independently audited and meets the relevant Asbestos Regulations, Approved Codes of Practice and Guidance.

We hadn't done asbestos training in quite a few years so had forgotten a lot of the knowledge but this course outlined all the important information we needed to keep ourselves and the general public safe.
Jenny Wright

Great training course, highly recommended. We thought it was great that we could do it on the go from our phones and tablets instead of being in the office and really liked the fact it remembers where you left off so you can take a break whenever.
Carl Morrison
Management System
If you are purchasing courses for an organisation, our online learning management system has been built to solve the problem of maintaining central records and ensuring that everyone's training is current and up to date. If an inspecting body wants to check your records, simply use our website to display a full record of staff training certificates.
You can also set up automatic reminder emails to ask your users to take or retake training. You can tailor these emails and the timings for sending and you can even specify that the email appears to come from yourself. Once enabled, the training system will manage all of the chasing for you.
If you work in a job where you are likely to encounter asbestos, then it is a legal requirement that you be trained to the correct level.
NOTE – IF THE BUILDING OR BUILDINGS YOU MAINTAIN WERE CONSTRUCTED LATER THAN 2000 YOU MAY NOT NEED TO TAKE ASBESTOS AWARENESS TRAINING. HOWEVER, IT IS STILL A GOOD IDEA FOR FUTURE REFERENCE.
No – this course is about awareness and avoidance of danger. Asbestos Awareness A is the most common training and is really about saving lives and reducing the potential for contamination. An unexpected release of asbestos in a school or other public building can have catastrophic results so it is vital that you recognise the threat but do not attempt to remove it.
Yes. Once you have successfully met the pass requirements and completed the course, you can download your personalised certificate. If unsuccessful, you can re-take the course as often as you like.
While there is no set legal requirement to re-take your training and refresh your knowledge, the Health and Safety Executive suggest that you do so regularly. It is best to re-take your training every 1-2 years.
"Great course! It opened my mind up to a lot of interesting facts.  I now feel more confident in dealings with potential asbestos hazards."
Bryony Granger
Instant access to courses
Training can be taken any time - no need for staff to take time out of work
Takes between 1-2 hours to complete
Courses can be taken 24/7 online or on mobile devices
Retrieve centrally held online certificates at the touch of a button
Downloadable Excel reports so you can monitor completion
Individual, personalised certificates can be downloaded and printed
Plain English content
Courses can be stopped and restarted at any point
Course notes and resources available for the duration of certification
Friendly, UK-based customer support centre in case you have any queries
Scenarios, content and questions are keyed to facilities staff
Course regularly updated and checked for current practice
Certification
Upon successful completion of the course, you'll be able to download a personalised asbestos training certificate valid for 2 years.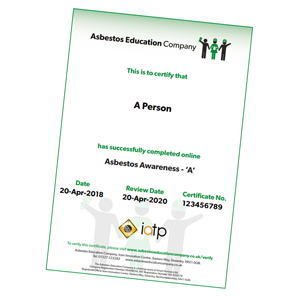 This module will introduce you to the content of the course and online training. You will then learn about who should be aware of asbestos and why it is so important. At the end of the module you will be given an example of the kind of test you will take during your training.
This module is designed to give you a brief background on asbestos and why it was used so much in the building and other industries. The module is important to you because it introduces the different kinds of asbestos and starts to explain how and when they were used.
The purpose of this module is to really drive home the importance of asbestos safety. The bottom line is that asbestos kills thousands of people a year, and the more you understand about how asbestos works and the danger it presents, the better you will be able to avoid exposure. The module also looks at who is at risk and why it is so easy to miss if you have been exposed.
Unfortunately, asbestos was used for many years in almost all kinds of buildings, from homes to hospitals, schools to warehouses. This module looks at where asbestos may be in a building and the sort of building materials and fixtures that contained it. We will also look at the things that can cause asbestos to be released and the importance of knowing what materials you are dealing with and how likely they are to crumble and release deadly fibres.
Should the worst happen, and you find yourself needing to deal with asbestos, you will need to be able to manage the situation properly for the safety of yourself and others. This module looks at how to assess the risk of asbestos being released and how to understand the risk assessments that may already be in place. It will also guide you through a step-by-step process of dealing with contamination.
When it comes to asbestos, the law is very clear and the penalties for making mistakes can be costly and may even result in imprisonment in some cases. This module looks at the parts of the law you need to know and how it relates to you and others.
The final assessment is where we test your Asbestos Awareness knowledge. All the answers are contained within the course.
Once you have passed your assessment, you will be able to download your certificate. The pass rate is 70% but don't worry if you do not pass the first time, as you can re-take the test as many times as you need to.
Total Cost (ex VAT)
£19.95
£179.60
£339.20
£798.00
£1,122.00
£1,397.00
Total Cost (inc VAT)
£23.94
£215.52
£407.04
£957.60
£1,346.40
£1,676.40
Cost Per Course (ex VAT)
£19.95
£17.96
£16.96
£15.96
£14.96
£13.97
Number of Courses:
1
Total Cost (ex VAT): £19.95
Total Cost (inc VAT): £23.94
Cost Per Course (ex VAT): £19.95
Number of Courses:
10
Total Cost (ex VAT): £179.60
Total Cost (inc VAT): £215.52
Cost Per Course (ex VAT): £17.96
Number of Courses:
20
Total Cost (ex VAT): £339.20
Total Cost (inc VAT): £407.04
Cost Per Course (ex VAT): £16.96
Number of Courses:
50
Total Cost (ex VAT): £798.00
Total Cost (inc VAT): £957.60
Cost Per Course (ex VAT): £15.96
Number of Courses:
75
Total Cost (ex VAT): £1,122.00
Total Cost (inc VAT): £1,346.40
Cost Per Course (ex VAT): £14.96
Number of Courses:
100
Total Cost (ex VAT): £1,397.00
Total Cost (inc VAT): £1,676.40
Cost Per Course (ex VAT): £13.97